New Tilesheet

We've been keeping this on the down low for a while but we've actually gotten a new tile artist – Krzyzstof Dycha. Our previous artist had to leave due to health issues. While we loved her art there's no way we can push her to do more. Health comes first! So we reached out to Krzyzstof and he's been creating some new tiles for us. We debated whether we wanted to simply copy the previous tiles and simply complete the leftover tiles or start from the beginning. Ultimately, we decided it would be best to start over again so Krzyzstof had full reign of the art. I personally am glad I made this choice as the tiles look great! They're very flexible and I'm super excited to start using the new tilesheet. We've finished up to World 5 so far so only 3 more worlds left. Right now we just have the basics for the different worlds, but I might end up adding in a couple more obstacles to ramp up the difficulty in later levels.
Bugs
Just last week I ran into a serious issue where all of my prefabs lost their tags and layers. While I was able to easily fix this there's a new issue. Now the Apprentice is getting stuck on invisible walls and ceilings. I'm not sure exactly what is causing this. I have created a new scene and even then the issue is still occurring. I'm still trying to figure out the issue but hopefully it'll be resolved soon as we have to submit the game to Artcade 3000 this week! Keep your fingers crossed so we can figure out the issue before then.
Luminaut Dev Log #5
Besides this, we were all super busy this past week. Saturday we all finally played League of Legends together. Most of us were relatively new to the game except for our programmer Alex. To make it fair the n00bs were on one team while Alex was by himself (except for the last game). Even with those odds, Alex managed to win 2 out of the 3 games. Guess I better start practicing! You can watch the video over on our Twitch channel and don't forget to subscribe! We stream every Saturday at 7pm ET.
So what have we been up to game development wise?
Music
Sound effects – Jump and enemy die
Finishing up Level 4
Art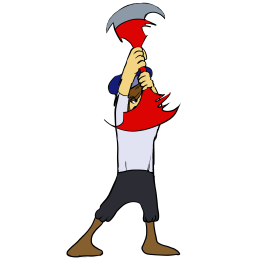 Completed UI
Draft of Bonus level
Finished World 1-5 tilesheets
Painter rainbow attack animation completed
As you can see it was a bit of a slow week but we're still progressing quite nicely. Hopefully we'll have a working build ready to test by the end of June. Are you interested in being an alpha tester? Subscribe to our newsletter and we'll contact you first to be a tester.
Until next week!