[slideshow_deploy id='289′]
On April 29, 2015 we showed off The Painter's Apprentice in front of 300+ people at The Spring Expo hosted by Playcrafting NYC and Microsoft. Leading up to the event we were really burning the midnight oil. Luckily all of those late nights weren't in vain as we got a lot of positive comments from the attendees. Everyone we spoke to loved the idea of The Painter's Apprentice and were interested in trying it out further down the line. We also received some excellent feedback on how to improve the game as well and we're already busy implementing these updates. So a huge thank you to everyone who tried out The Painter's Apprentice! We'll be at the Summer Expo in July and it will definitely be much more polished by then.
Speaking of upcoming conventions, we'll be submitting The Painter's Apprentice to a couple places. The first deadline coming up is for the Boston Festival of Indie Games in September. The digital showcase submission deadline is May 15 (eep!) and requires a 3-5 minute demo of the game, how it works and what makes it unique. We'll be bringing you the completed video once it's done. Fingers crossed we get accepted! The next event we were invited to was the Artcade 3000 out in Bushwick Studios happening June 5-7. We actually met up with the organizer – Jan-Luc Van Damme – at the Spring Expo and he was impressed with how we tied art and videogames in The Painter's Apprentice and wanted to know if we wanted to exhibit. The answer is of course! So if you're in the neighborhood during that time, stop by and say hello. We'll be hanging out with fellow devs and gamers.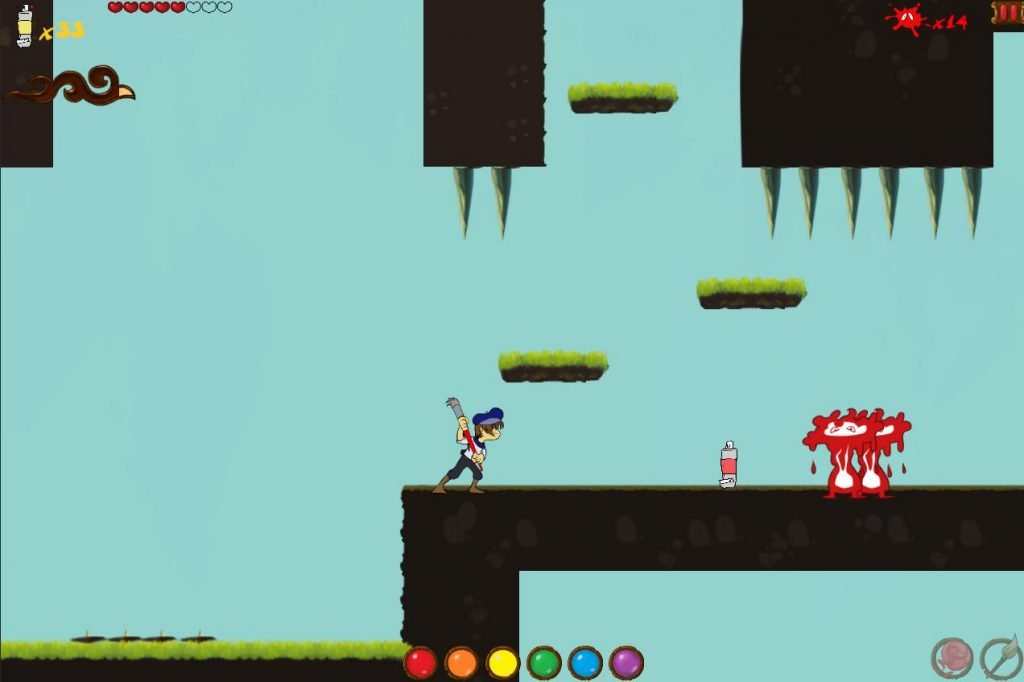 We had a lot of updates the last week since we were scrambling to get everything working for the Spring Expo. This week we worked on fixing some bugs and getting some more artwork completed.
Bugs
Fixed UI configuration so it adjusts to the screen size
Removed area of effect on dive attack
Programming
Added adjustable gameplay button UI so players can adjust size and location of buttons
Testing out different color picking methods
Updating tutorial levels
Art
It might seem like a slower week than last but we're still making some pretty steady progress. If you want to watch us make levels, create animations or make some music, you can tune into our Twitch Stream every Saturday at 7pm ET.